Attraction Marketing
In this article i'm going to show you how to set up an attraction marketing strategy for your Network Marketing team so they can simply share articles, get leads and sponsor more business partners.
What is Attraction Marketing and how it can in be used to grow Network Marketing teams?
Attraction marketing is term used to describe the use of content to inform and educate your target market making your prospect seek out your advice as opposed to hunting down prospects and attempting to sell to them. Prospect are invited into your world by way of informative content rather than a pushy sales approach.
Why You Need an Attraction Marketing Strategy For Your Network Marketing Team
Attraction marketing is an effective non obtrusive way to peak the interest of potential prospects and attract them to your team. Without a proper strategy your team members will waste valuable time trying to make it work by themselves and lose focus on the critical activities they should be focusing on to build their business.
Now let me show you how you can implement this strategy so anyone in your team can use it by simply clicking to share articles to generate leads for their business.
How to Set up Your Attraction Marketing Strategy to Create Leverage Instead of Stunting Your Growth.
Before we dive in I want you to know that there will be configuration process from you to set this up. However, using this strategy will arm your entire group with the ability to approach anyone with free value instead of just a sales pitch. This will allow them to approach anyone without fear of rejection. It's impossible to reject free and informative advice which is the cornerstone of this strategy.
Step 1: Pick the target audience you will create content for
This step you need to specifically define exactly who you want to attract with your content. This audience should have a direct need for the products or services you eventually offer. After all this is why we want to attract them to us in the first place.
Examples target good target audiences:
People Seeking a Way to Earn Extra Income
Moms Looking for a Flexible schedule alternative to going back to work
If you have a weight loss product your audience could be people looking to lose weight.
People already trying to build a Network Marketing business.
Step 2: Pick your content platform
This is a key step and in almost every case I would simply recommend WordPress to host your content platform. However, in the case of Network Marketing there is a much better choice.
HomeOfficePro.net has the content platform built for Network Marketing teams that allows you to create and host a unified blog that automatically duplicates for your entire team.
What does that mean?
It means that you create an article or piece of content and anyone in your team can share it and get the leads from the people who click on their shared links.This is key because it keeps your new members and the rest of your team focused on critical activities like peaking interest and showing the presentation instead of requiring them write articles themselves. You can however add more experienced team members to contribute articles that can also be shared by the entire team. Each article shared creates multiple share opportunities for your team members to peak the interest of contacts in their extended circle of influence that they normally would never call. It also allows them to reach out personally to someone with specific helpful advice that directly meets a particular contacts needs.
Click here to learn more about the HomeOfficePro Network Marketing System
Below is an example of how easy it is for one of your team members to share an article from the HomeOfficePro system


Step 3: Pick a name and domain name that will host your attraction marketing blog.
In this step you simply come up with a name and register your domain name at godaddy.com or any other provider. Pick a name that fits the audience add it to your HomeOfficePro platform. HomeOfficePro comes pre-configured with a blog template you can use right away or you can customize the look for the blog platform any way you like. Simply point your domain name servers to:
ns1.platinumdesigns.net
ns2.platinumdesigns.net
To assign you domain to your HomeOfficePro System.
And be sure to send that domain name over to support@platinumsynergy.com so it can be added into your Home Office Pro system
Step 4: Create an irresistible offer capture page
In this step you create a compelling offer targeting the people in that specific target audience who will land on your articles. This offer will be displayed on the page that displays the article. When the prospect clicks on this offer, it will bring them to a capture page customized to the member who shared the article. You can easily create capture pages using the HomeOfficePro software to capture the contacts information and/or deliver them something of value such as a video, download or a simple request a call form. When the prospects information is collected by the capture page the team member who shared the article will be notified and the contact will be available for them in their personal contact manager. HomeOfficePro also uses the contact manager to automatically deliver email marketing campaigns to the prospect based on where they are in the sales cycle. In HomeOfficePro you can create email campaigns that automatically go out for your entire team when a prospect hits a specific status. Learn more
The example below shows the example blog template targeting network marketers with the irresistible offer to receive 100 free leads.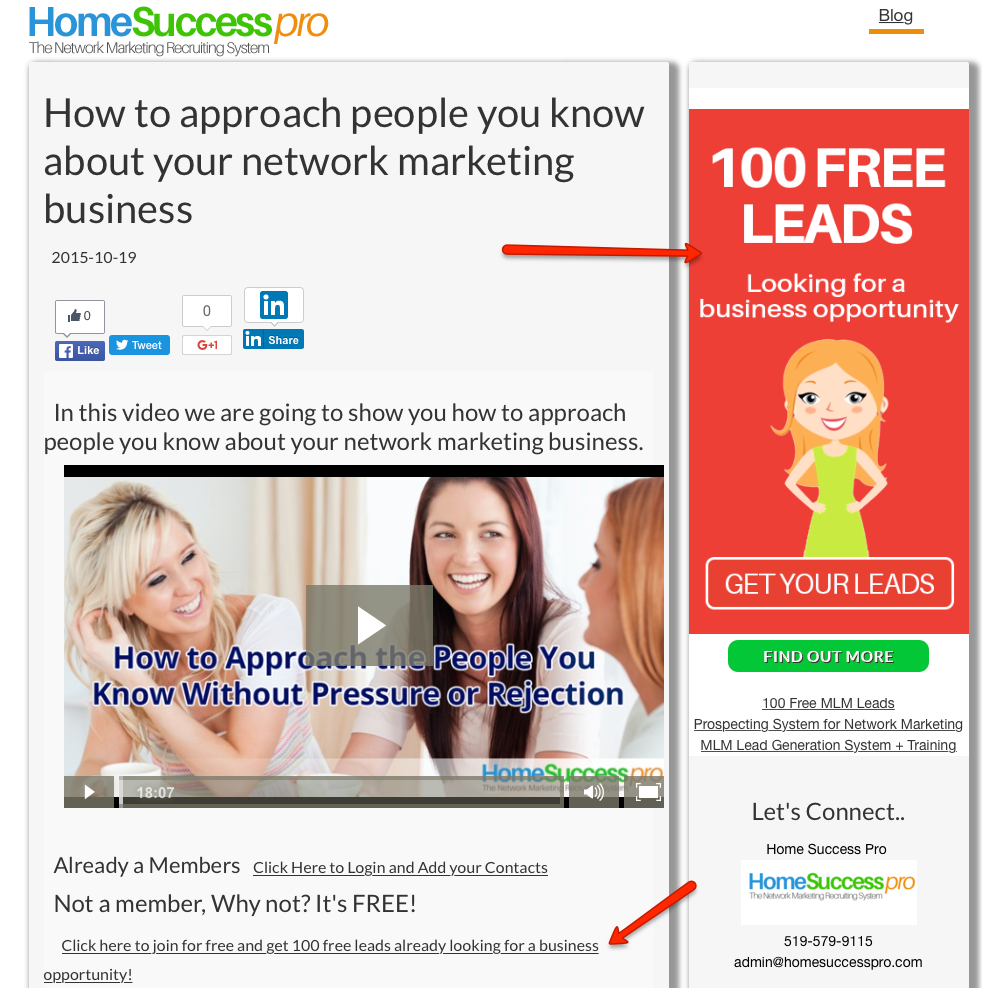 Example below of a capture page created with the HomeOfficePro capture page builder, that builds capture pages in minutes for your Network Marketing team to use and share.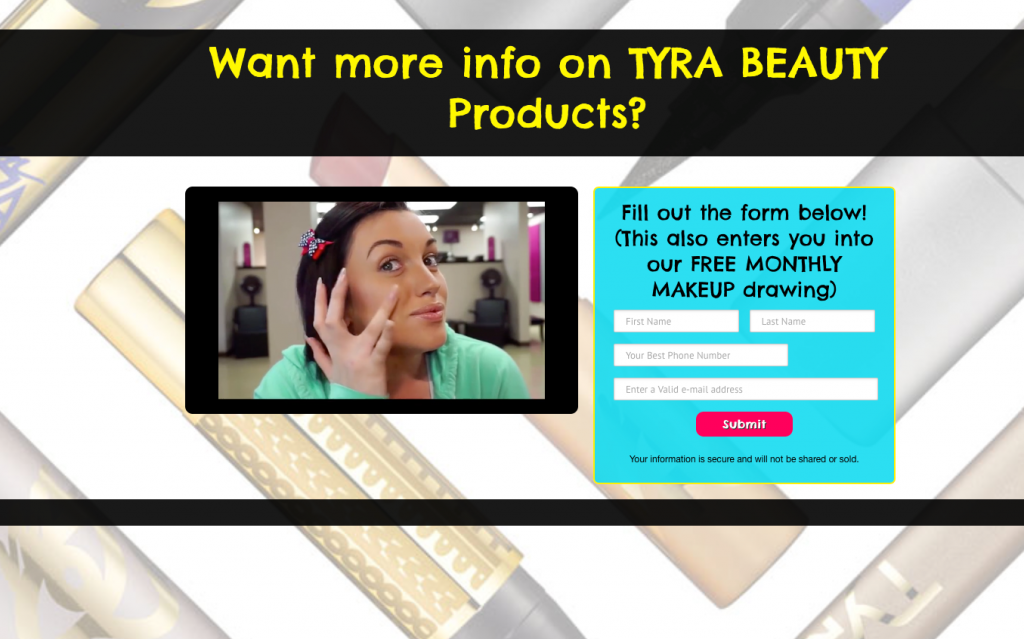 Step 5: Add articles that provide value to your target audience.
In this step you create informative articles that are designed to peak the interest of your potential prospects and provide links to take action on your irresistible offer. You guessed it, those links are to the capture page you created in step 4. Once steps 1 through 4 are complete your blog will automatically display the relevant call to action for the prospects reading your article based on the blog that your article is associated with.
Since this is the only step you will be repeating I figured I would create an article you can use as a workflow guide to creating articles.
7 Critical Steps to Creating Articles That Generate Leads
Is your team ready for HomeOfficePro software?
Fill out this quick quiz to find out.